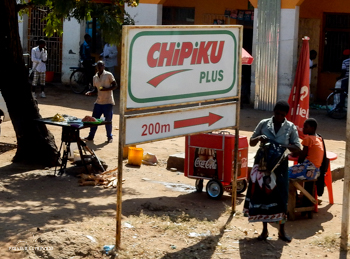 In Linlongwe, Blantyre and Mzuzu you will find shopping malls. In the country side you can buy fantastic fresh local foods in the markets or even along the big main roads.
European cheese, chocolate and cold cuts you sometimes get in the shopping malls.
Water
Fresh water you get in every Campsite for free.
Diesel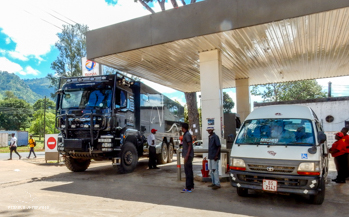 The petrol station network is quite comprehensive. The quality of the diesel though is not really ideal for modern engines. The sulphur content is so high that they rather not declare it, we assume it's around 2'000ppm. And you can actually not pay with credit cards. If you have to get a lot of diesel, withdrawing the cash takes longer than filling up the fuel.
Money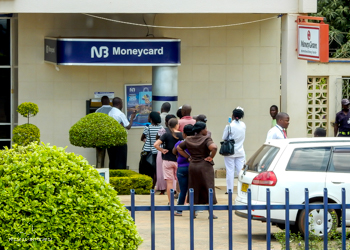 In all bigger villages/cities you find ATMs. We guess that they work 70% of the time. Some of the banks allow withdrawals of MWK up to 80'000. Unfortunately our bank charges 10 CHF fees every time. Roughly 17% banking fees – extortion!!! Credit cards we only could use in Lilongwe and in Shoprite Shops. This situation – paying everything in cash, including the diesel (6x withdrawal) – turns Malawi into an expensive country. At least the ATMs are always next to the petrol stations. For tourist offers the amounts are always given is USD and are even expected to be paid in USD sometimes. But normally you can pay in local currency – Malawian Kwacha – as well.
Overnight places
In the backlands you can easily stand free, but not along the lake. Often the campsites belong white people and the facilities are quite ok most of the time.
Internet
If you buy a router you get more data far cheaper, but the data only last for 30 days.
Airtel Zambia router do not work with Airtel Malawi SIM-cards. The router are blocked per country. The phone works across the border, but you cannot recharge the Zambian SIM card. Internet access is fairly good with the local SIM cards.
Roads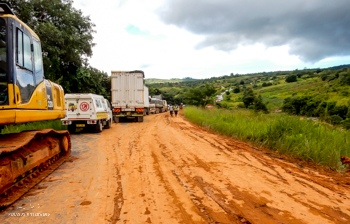 The main roads are tarred. But often the streets are so narrow, that 2 trucks cannot cross, one has to drive off the road. The gravel roads/tracks were during our travel time, the rainy season, washed out or very muddy. Nevertheless, often the tracks are better than old tar roads, which are full of potholes very often.
Our personnel highlights
Drive up Livingstonia (up the hills, fantastic views) 10°35'15" S 34°7'43" E
Mulanje Mountains (hiking paradies) 16°0'20" S 35°31'15" E
Zomba Plateau (high plateau, hiking) 15°20'59" S 35°19'56" E
Golomoti Pass (mountain pass road) 14°21'47" S 34°18'29" E
Liwonde Bushcamp's Baobab (camp in Liwonde NP) 15°1'22" S 35°14'4″ E
Lake Malawi 13°42'59" S 34°37'42" E
Rumphi to Chiweta (panoramic view road)
Chipota to Kasungu (road with great view through the NP) 14°26'1″ S 34°30'2″ E
The guys of the pottery in Dezda (so helpful and friendly)
Chitumba Camp (beautiful campsite with really nice owner)
Rules for heavy vehicles
All trucks, including motorhomes, need to have a red reflector in the back covering the entire width. In the front the reflector needs to be white. In addition you need a yellow 80km/h sticker. Like in Zambia you need 2 metal breakdown triangle. The good old plastic Swiss ones are not good enough here!
Border formalities
Normally Swiss nationals only get a visa at the border if they have a letter of their embassy with them. We didn't have such a thing, but could convince the officer to give us a visa. Like in Zambia, we got the visa for 3 months, but only 30 days activated. After 30 days we got the extension for another 2 month for 10'000MWK each in the immigration office. The carnet de passage had been stamped easily, we could even assist how to do it. The entire border formalities next to Lundazi didn't take longer than an hour.
The visa costs are 75 USD per person, no other fees had to be paid. The visa you have to pay cash in USD.
Long time parking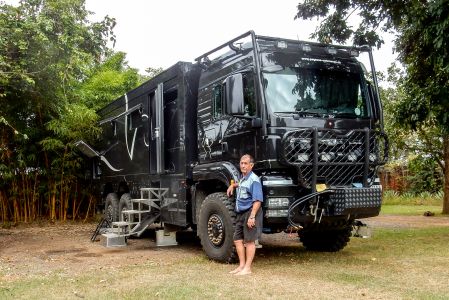 Close to Lilongwe International Airport is Fred's long time parking. Fred is an extremely sympathetic fellow and has a large site for all kinds of long-distance mobile homes. In his own workshop, he can also carry out minor repairs and maintenance work. His garden is fantastic and his grills are a feast. However, you have to be dog lovers.
Fred D. Van Rensburg
Cell: +265 999 964 052
Our stats
Daily expenses for 2 people:
Food
Alcohol
Nonfood
Clothes
Excursions
Restaurant
Campsites
Transport
Internet/Tel
Fees
Health
Diesel
CHF 13.43
CHF 3.24
CHF 0.32
CHF 0.09
CHF 1.38
CHF 1.55
CHF 8.36
CHF 0.74
CHF 2.68
CHF 3.31
CHF 0.61
CHF 1.09/L
Personal observations
This country is really be visited with relief organisations. Based on UNO stats Malawi is the poorest country in the world. That's why so many organisations are working here. Based on our conversations with a lot of locals and worker of such organisations it seems that it would be more helpful for the country if less money/help would come. The ground is fruitful, a lot of nutrition can grow without a lot of support. All the bigg and expensive 4-wheel-drive-cars belong the relief organisations or the administration. A Dutch who lives for many years now in Malawi told us, that a Malawian minister earns a multiple of the salary of a minister in Holland. This and the booming families with up to 12 children do not help this wonderful country. We saw kids fishing with moskito nets and the adults cut the woods down for their living and cooking. We don't think that Malawi has a positive perspective for the future, what a pitty!