Immense friendliness
21.5. – 3.6.13
Thinking back of Greece we immediately have pictures in mind such as wildly romantic coastlines, mellow hills, exquisite historical areas and terrific views. But what stays is the amazing amicability of the Greeks.
It started already in Lefkada with the owner of our B&B. A resolute mature woman, who is ruling her "empire" with an iron hand. Although she's sitting more or less the entire day in her office she has everything under control. So for sure she was the right person to ask for a little favour: to arrange a date for a check-up of Peters bike in Thessaloniki. That was an easy task for her, given her assertiveness. She didn't even ask for a date, she rather told them when they have to do it J Of course we liked that. And on top she gave us a little gift and a warm good-bye hug when we left.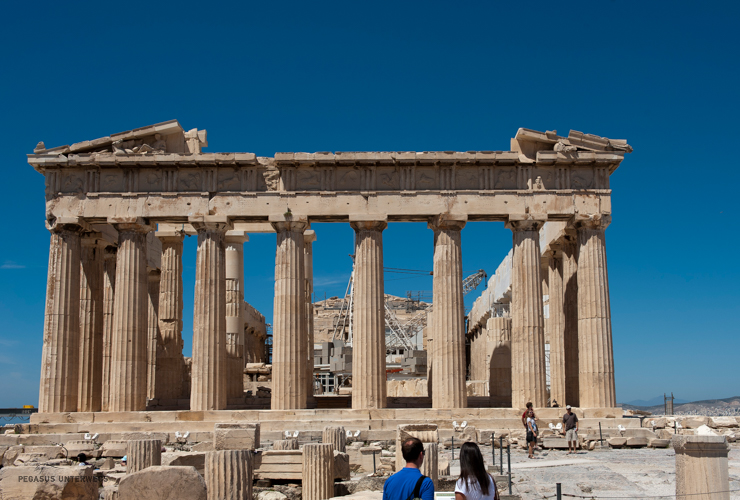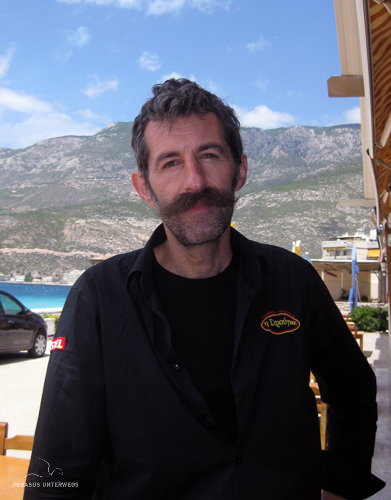 Dimitrios we met at his restaurant in Korinth. He sat down and took his time to chat with us during the entire lunch. His parents emigrated to Canada when he was a little boy. But he came back to Greece and manages now his uncles restaurant. We had a great time together, learned a lot about the Greek spirit and it was really charming that he told us so much about himself.
Our stay with the family Costis in Evangelistria we really enjoyed a lot as well. A couple – he a former Art Director in an international advertising agency in Athen – who turned their former weekend house into a guesthouse. They host nowadays – as retirees – guests in a wonderful environment and location. She cooks outstandingly good and he has some very nice wines in his cellar. One can really feel like at home with them, they are so lovely and charming hosts.
The owner of the hotel in Ano Stavros we experienced as well as a cheerful "Family Itd." I've organised – as a little surprise for Peters 60th birthday – a chocolate cake. And they confirmed, no problem, they will do that. When we arrived, there was our room ready, but no cake! Ok Peter didn't know anything, so for him everything was ok, but I was a bit peeved. I went down to the reception and asked for the reason…. The young lady went pale and immediately said: "oh no you are in the wrong room. Everything is prepared." Her brother and her sister in law booked us twice in different rooms. So she created a little story to give us a reason to change the rooms. Then we moved to the other room where the cake with burning candles waited for us (Peter didn't mind the little mistake they made with regards to his age. As they understood sixteen instead of sixty, they put a 16 on the cake, that's the quickest juvenating process I've ever seen!). We all laughed and then the brother cooked a delicious birthday dinner for us. So at the end it was a suprising birthday for Peter.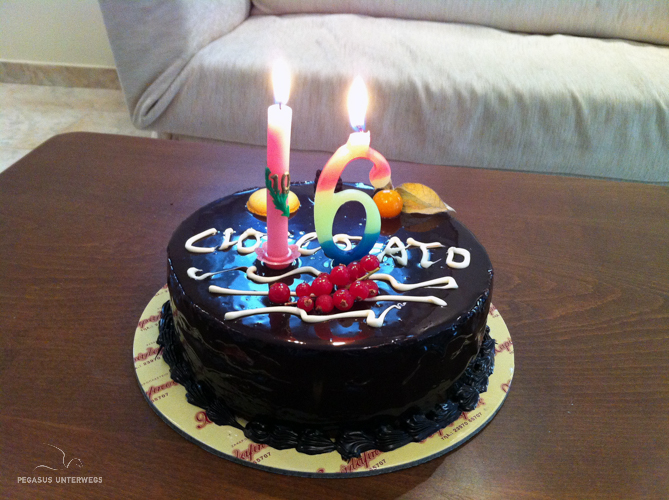 At our last day in Greece we met Nasos, who is the son and successor of the owner of the hotel, we booked for that night. Unfortunately the redecoration work in the hotel hadn't finished by then so he had to give us a room in a different building in the village, very close to the sea, but definitely lower quality than the one we booked. He was really upset, that he couldn't find something better for us. So he invited us for a beer and asked his friend George, who has a local news blog, to join us. George did a little video interview with us while the sun was going down and about 1 Mio mosquitoes tried to get dinner from us! Afterwards the four of us went for dinner and we had such a funny and fascinating evening.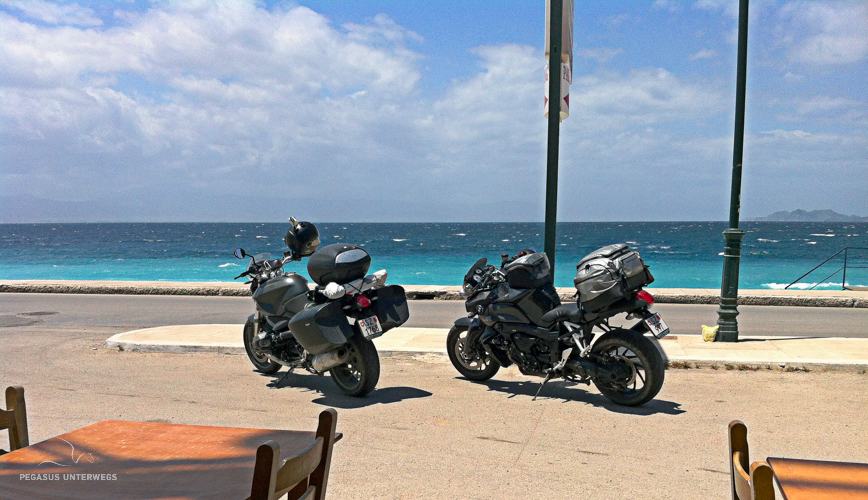 These and other experiences were the real highlights. We were astonished how much time and interest they showed to us.
Greece offers so much in terms of landscape, culture, art etc., let's hope they find rather sooner than later their way out of the crisis to the benefit of all these wonderful people.