Border Crosser
9. – 23.6.13
We couldn't believe it, but the end of the 3 months came up quicker than we thought. We drove through so many countries in such a short time, that we somehow forgot how quickly we approached home.
Crossing borders is an uneventful story within the EU, but on our way back home we enjoyed the full monty travelling from one country to another.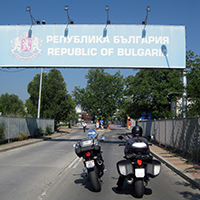 To begin with it's worth mentioning the departure – just to be clear the EXIT – from Turkey, to then enter Bulgary. If you leave a counry one would think this is not a big deal. It started easy, similar to the arrival procedure we had to pass 3 different stations: one to get our bike registerd, one to control our passports and a last one for a completeness check. At the second station all of sudden they told us, my bike needs to be checked. Mark you, Peter and me entered Turkey together and therefore had joined immigration papers. But something seemed to bother them by my bike. So we had to turn back to the immigration side of the border and to unpack all my bags and then drive the bike into the huge scanner they have for trucks and cars. Certainly we didn't get an answer to the very natural question WHY???? After a long time waiting in the burning sun we were allowed to drive back to the emigration side to go through the entire procedure again. What a bullshit. Luckily the Bulgarians were really easy: when they saw that we are Swiss, they let us pass immediately!
The same easyness we experienced driving from Bulgaria to Serbia. We were prepared to undergo a longer process there, but as we happened to have chosen a smaller boarder, we just had to stop and wait until the chief inspector felt like having a look at our bikes and letting us go. Two German truck driver weren't that lucky. As they told us they were waiting already for more than 2 hours already for one stamp in their papers.
The border between Croatia and Slovenia was really cute. We – without knowing – have chosen a tiny little "green" boarder in the midst of a huge wood. When we arrived a tractor was in front of us and passed to get to his fields on the other side. We had to wait. The Croatian customs officer appologized for keeping us waiting. He explained he would need a few minutes to issue a special transit paper. And we had to pay for it. We didn't mind as the weather was nice and we had no stress. After we got the paper we drove the 2km to the Slovenian boarder, where the inspector told us, that Croatia isn't allowed to let us emmigrate through this small boarder, which in fact is for the locals only. But he is obliged to let us immigrate to the EU and therefore we could drive along. So we only realised then, that the Croatian custom officer made an exception for us, as he obviously liked us and our tour. We were extremly happy about this as we avoided a huge detour.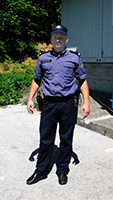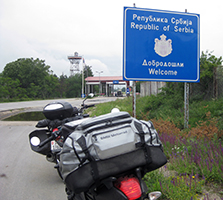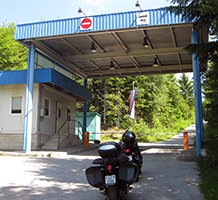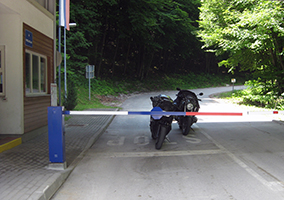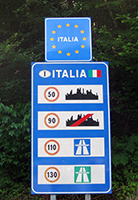 Back in Slovenia we were back in the EU, which means no further cross boarder procedures anymore. And the immigration to Switzerland was also easy at the top of the Umbrail. Back in our home country we drove without rain to Davos our last stop-over before home. Was nice to get back with sunshine given that we started 3 month ago with snow!!!
And the arrival in Switzerland has been celebrated in a very special way: Peter had organised a surprise party for my 50th anniversary, which happened to be on our last tour day. After a short walking-tour we arrived in a very nice little hut in the mountains and all our friends were there waiting for us. I was speechless. This was the most wonderful way to come back I could every imagine. I was totally overwhelmed!!!