Very personal advice for a construction or purchase of an off-road motorhome
A Dream
It all starts with a dream. We have seen an impressive motorhome on the road and were thrilled, delighted; it was a dream to have a mobile-home like this. Then it is interesting to observe the dream, it remains, it gets serious and even becomes a real need. Maybe it disappears; then it was not widespread enough to actually plunging into this adventure. However, if it remains, the next step is a more serious one: you have to learn everything about the relevant market.
Explore the market
Before embarking on this project, you should know who and what is on the market and what monetary requirements are needed for such a vehicle.
The easiest market overview you will obtain during the respective fairs. For off-road vehicles, it is certainly the annual http://www.abenteuer-allrad.de in Bad Kissingen. In addition, I would absolutely recommend visiting great camping fairs as well. Most likely there is no 4-wheel-drive-vehicle, but RVs – so called recreational vehicles – and big motorhomes based on bus chassis. Smaller vehicles may already cover your need. On such fairs you will recognize what is feasible at what prices.
If the dream still not fails to reality, it is important to make a crucial decision. What type of vehicle do I need? Is an off-road vehicle necessary or at least intensively desired or do ride me either way 98% on tarred roads and can be satisfied with a road vehicle. If you conclude a road vehicle is sufficient, it becomes immediately much cheaper and the sources of supply are much closer to where you live. In this case you get further information via the camping industry.
Once the decision has been taken for an off-road vehicle, the next step will be the clarification of the chassis.
Chassis
In Switzerland, we differentiate between 3.5t-, 7.5t- and heavy vehicles over 7.5t. Vehicles up to 3.5 tonnes may be driven with the normal car licence. Such expedition vehicles are often built on Defender. There are many accessories and expansion options available.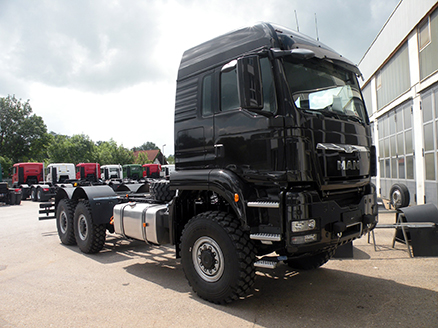 7.5t chassis are great and almost anything is possible with them. Restrictions are what you want to take absolutely with you. With increasing travel experience, however, you will need fewer and fewer things.
Over 7.5t almost anything is possible. You only have to decide between 2-axle and 3-axle vehicles. Most of the truck chassis with all-wheel-drive are built by MAN or Mercedes. MAN is slightly cheaper and more common; Mercedes has a better service network in the USA.
You choose the chassis on the manoeuvrability and comfort. The smaller the vehicle is, the more manoeuvrable in the terrain, and the bigger the more comfortable it is. The budget does not really matter: you can do a lot yourself and good chassis are on the market as second hand. It is essential, how much comfort you want and how much manoeuvrability.
The Mounting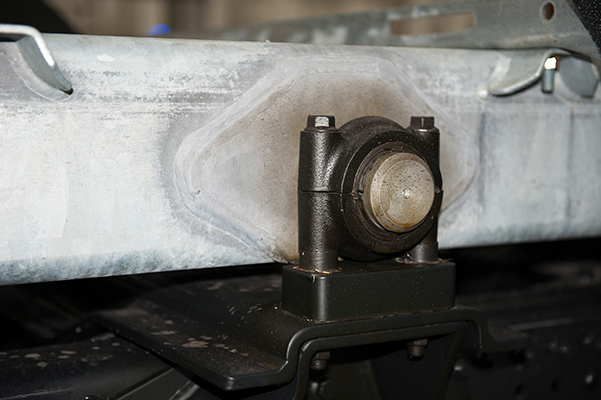 Discussing the mounting you will find two worlds, the one of the rubber and the diamond mounting. The shorter the vehicle is, the more likely a rubber mounting is feasible. For long vehicles a diamond mounting is important because the chassis must be able to move and twist in the off-road terrain, otherwise in extreme cases the cabin will break, because it cannot absorb the forces.
Project management
From personal experience, I believe that very few builders of expedition vehicles know something about project management and hence they are not able to manage a more complex construction. This part has to be led by an expert, or should be done by yourself. I do not advise general contractor contracts. With turnkey vehicles, there is a risk to be delivered only after our death. Innovation is not really a strength of the industry; therefore, all vehicles are very similar.
It is advisable to construct the technical equipment directly with an appropriate specialist. No expedition vehicle builder can know everything and can construct it.
Size of the cabin
The length of the cabin is a next key decision. It should be as big as necessary and as small as possible. Unsuitable for real off-road expedition vehicles are all kinds of cabin enlargements as elevating roofs and slide-outs. These techniques are indeed plausible, because you transport less air, but they are often overextended in the terrain. For users who move their vehicles mainly in Europe and for holiday purposes this works well. For those who live in there expedition vehicle throughout the year in other continents, these techniques are not particularly recommended.
Energy sources
Besides diesel, the expedition vehicle used to consume gas for the hob, the fridge and the oven. This is the most efficient way to operate these devices, but gas is worldwide not the same gas and the ports are all different again and the gas tank is heavy and needs space. In addition, the most important point for me: you chase diesel and on top also gas.
Electricity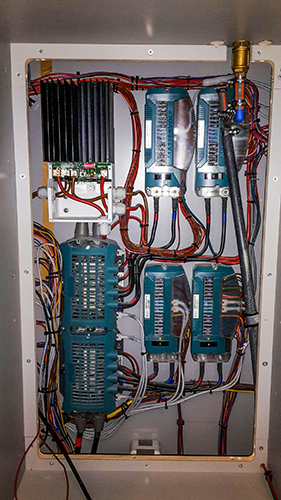 The solar cell is certainly the most important element for power generation. In African countries, for example, you would not need anything else, if they have the right size. In Iceland and other northern countries you will need a generator, because you would not get enough sunlight. And you might not always want to drive around to load the cabin battery. Moreover, shore power is only available in places where expedition vehicles stay in exceptional cases only.
Today a bus system to control the consumers is for sure "state of the art". With Internet reception a simple remote diagnosis by the manufacturer is also possible.
Secondary vehicle
A second vehicle for shopping or just transporting yourself to the starting point of a trek or a nice place makes sense. An ATV is of course very convenient, but also very large and heavy. A motorcycle for two people is not so easy to handle in the terrain. Alternatively to an ATV, I would always take two bicycles.
Interior design
This is a very personal item. Luckily tastes are different from person to person. If the cabin builder determines the interior design, it would look like all cabins in the last 50 years.
Test travels
After you finished your expedition vehicle, I recommend at least two longer test rides e.g. one to North Africa in the sand and the heat and a second one for example to Iceland into the water and the snow. Such journeys help you to minimize negative surprises on your long distance travel.
Good luck!