18.6. – 10.7.15
Get to know Globi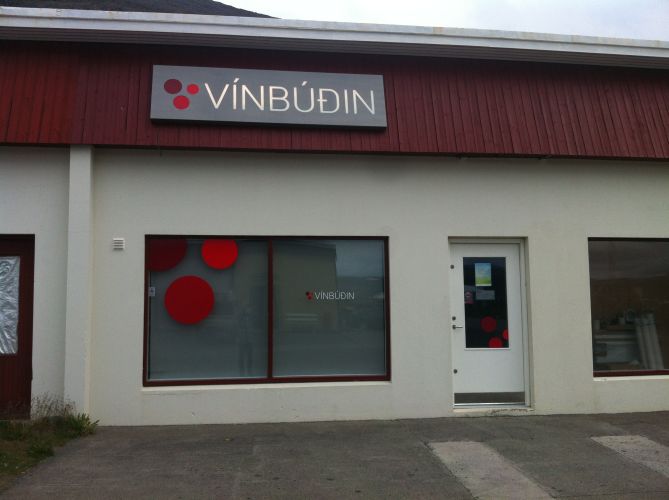 In fact Iceland does not allow to import any food (apart from 3kg per person, which is like nothing). That's why erverybody from the ferry meets again in the next supermarket of Eglisstadir. We get all the stuff we need, very similar to the products we are used to. Only yoghurt is kind of different: you can nearly drink it, definitely nothing to eat with the spoon.
On another note – very important for wine or beer lovers – there is only one shop which sells alcohol: VINBUTIN. This governmental monopoly leads – amongst others – to weird opening hours, which differ from village to village, e.g. from 4-6pm. So we either stop drinking wine or camp directly in front of the Vinbutin!
What we were looking forward to
To sit in a warm pool – hot pot – outdoor in the cold, was something we experienced already the 2nd day. There was this nice one up in the highlands – hot water and crisp air – perfect!
A rather horrifying alternative is the BLUE LAGUNE. In the wastewater of the thermal power factory nearby thousands of tourists take a bath and pay a lot for this. We've taken pictures but no bath.
Despite the fact that we have nice waterfalls at home as well, we definitely want to visit the famous "Foss" (means fall) of Iceland. The first one we walked along was Hengifoss. There is no doubt a lot of water in Iceland. The highest fall, Glymor with 196m height we discovered a bit later on. What we like is, that most of the time you can combine the visit of a fall with a nice hike.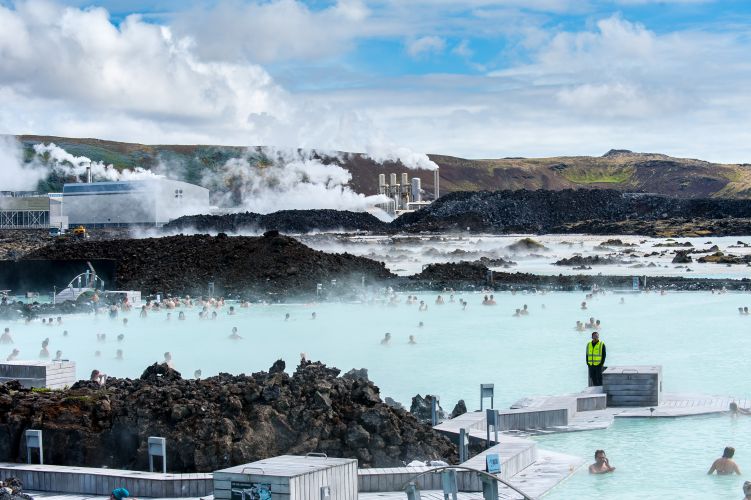 In Jörkursla the pieces of the calving glaciers move to the sea with low tide and sometimes come back into the lagoon with the high tide. Originally we had planned to stay there overnight to follow the tide cycle, but the massive amount of tour-busses and tourists prevented us from doing so.
Another attraction is Pörsmörk. A nature reserve located at the bottom of a glacier with many hiking tours. The track to the lovely campground is fun as you have to cross some rivers. We spent 4 days here and on top met some friends from home – Margot and Jürg.
Iceland offers a lot for hikers: many well marked trails, tree trunks as bridges or little caves as tunnels.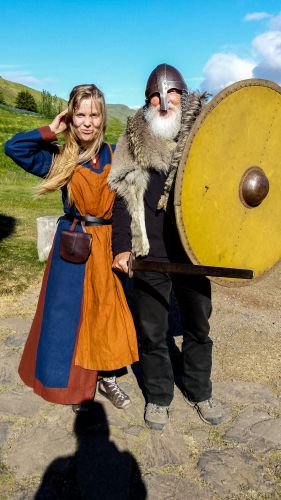 Next to Erikstadir one can find a replica of the home of Eric the Read, one of the famous discoverer and conqueror of Iceland. The replica is also equipped and furnished like in the former times. A young charming lady in traditional clothes told us a bit of the Eric Saga and explained the usage of the different household things.
Rykjavik is a big village, but also the capital of Iceland. There is one long street – the main street –, where you can find most of stores you need. Similar to our Bahnhofstrasse in Zürich. Though we guess with a bit lower rental fee ;-))
Everywhere are little coffee shops and bars, also around the harbour area. And always they offer seats outdoor as well (not really cosy with 10 degrees or less!!!!).
The Icelanders love to party in summer. At least close to our campsite they partied until 5am in the morning.
During weekends Icelanders love to explore the nature. On one campsite we got surprised. This place was idyllic, calm, right in the outback of a fjord on Thursday. One evening later we were all of a sudden surrounded by 10 camping cars – 30 people plus dogs. Whow a bit too much …
Another camping we saw was really ugly: it looked like thousands of hooligans had stayed here over the weekend.
Eventually there are so many tourists and excursionists in the greater Reykjavik area that it feels really odd compared to the nearly empty rest of the country.
Funny enough but in the highlands we saw so far most of the swans we have seen in Iceland. We thought they love water – lakes, little rivers etc – but they seem to like the highlands to grow up their little ones.
But anyway right now in June/July it feels like all the birds of the world are breeding in Iceland. Many of the birds are nesting directly on the ground in the grass. Possibly because there hardly any trees and no cats?
It's said the biggest colony worldwide of skuas are breeding in Iceland. We saw them, they are quite aggressive if you get too close to their nests.
The smaller see swallows like to breed in big groups and they defend their babies heavily: they attack you like a bomber pilot if you walk along their breeding fields. We are sure Hitchcock was inspired by them for his film "The Birds". They tend to pick on your head, that's why the locals wear hats ;-)).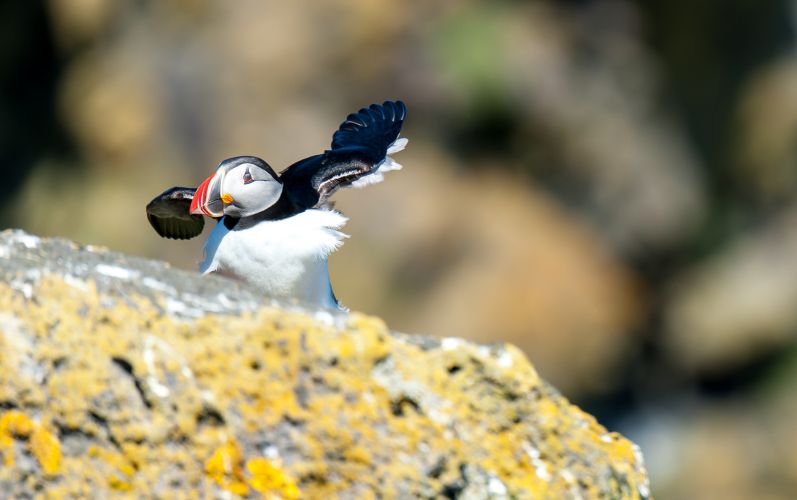 Apart from their militant behaviour they are harmless and cute.
But we didn't come to see the bomber pilots but rather puffins, which we missed in Scotland. And in Iceland we got the full monty: the boat trip to Papey was disappointing, but the trip with the farmer from the Litlahof was sensational. Unfortunately we detected the preferred breakfast dish of the skuas as well: puffins!!!!
As we did drive through Morocco already with MANroc, we felt like being professional already and like children we were looking forward to our numberless technical devices in Globi. Our own washing machine, the bread baking machine, the oven – all working perfectly fine. And thanks to the tyre pressure system we adjust the pressure to the road conditions – not like with MANroc where we used an average pressure which was never optimal.
Getting our WLAN started was a bit more tricky. The special data SIM-card, which we bought from Siminn (Iceland phone company), did not seem to work. After one week we determined that the offered 5GB weren't loaded onto our card, it was just empty. As soon as we uploaded another 5GB the system worked perfectly fine. Siminn or the salesperson in Eglisstadir took us to the cleaners!
Amongst others we have various tanks in our vehicle for fresh water, grey or black water. We still have to practise how to manage them. As our tank meters are producing accidental results we try to help ourselves with stats. Works so far ok. But one day after clearing the faeces tank the slide damper of the tank didn't close. Was a bit stressful to drive around with an open toilette. Unfortunately the team who built our Globi couldn't help either. Luckily the slide damper works now, but we don't know why…..
Filling our fresh water tanks can take up to 4-6 hours per tank. Though the pressure in the water pipelines is really good in Iceland. And in Vik on the campground all of a sudden both tanks were completely empty. Not only the tank meter failed, but also our stats! Result: we stood the whole night from 8pm till 6am next to the water supply. We split the night watch. This experience was driving our motivation to optimise our stats to the next level 😉
In the meantime we learned to speed up our tank filling time by four. The filler neck was built with a pressure reduction valve in it. Once we took it out, it worked perfect!!!
Dripping on my head in the midst of the night, while raining heavily was another problem we faced. Open just one window in the bedroom to circulate air is obviously not enough…
A bit more unpleasant was our clumsiness on a parking site which we were kindly allowed to use as an overnight camp site: when we left the parking one of us accidentally touched the "empty the grey water tank"-button. Fortunately only grey water….
Globi runs aside from diesel with electricity only. This is therefore the most sensitive area of our motorhome. One evening we had guests invited for dinner and Gabi wanted to demonstrate her cooking machinery: the oven was heating, 2 cooking zones were working when she use the power button (highspeed heating). This the MasCombiUltra didn't like at all and said good-bye. Globi without power! After a little hectic and stress breathing we got the situation under control. Only the lock of our entry door is a bit slow since then.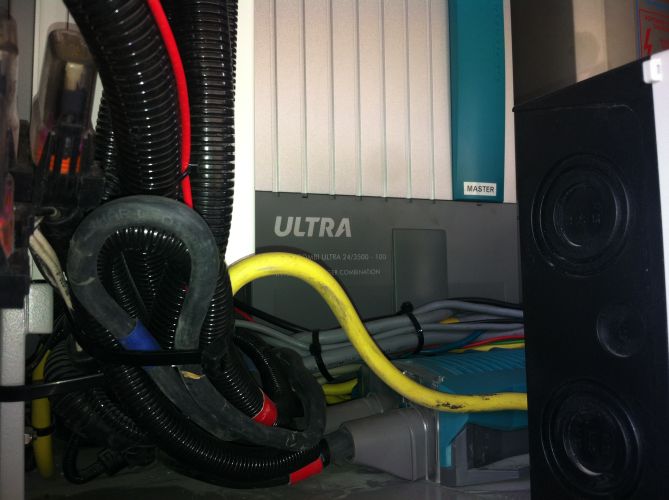 Wherever we are, wherever we park Globi, countless amounts of pictures are taken of Globi – without asking of course. Most likely you can follow us through Iceland just via these pictures. So even when we leave Iceland we are staying here.
Road marker are not that easy to read. You have to learn the meaning behind. Blue sign posts with names on it are most of the time just the names of the farmer's courtyards. And they are strictly private. Gabi had to hear and rehear that when we had to turn the truck on courtyards.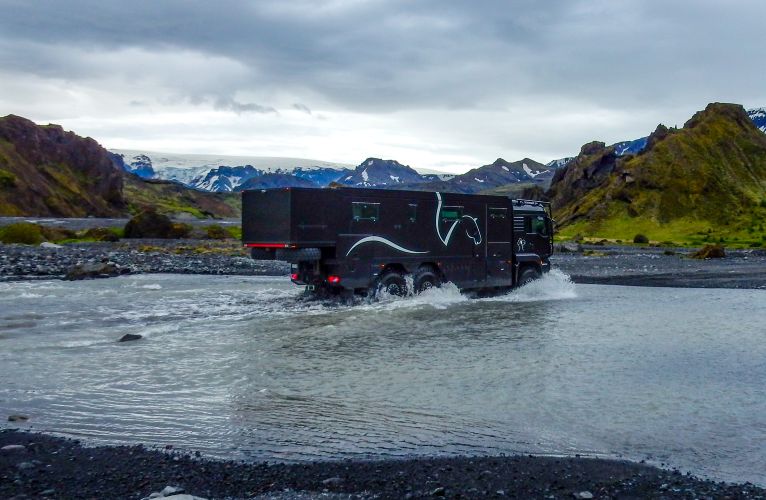 Originally we had planned to do some off-road tracks immediately when arriving in Iceland. But most of the highlands tracks are still closed because the winter was very long and hard this year. On the F910 we had to turn already at the barrage and on the F206 we could only drive to the Fagrifoss.
Really interesting are the single lane tunnel, which are more than a couple of hundred meters, but without any obvious sign or signal telling us, who can drive from which direction. We followed the principle of "we are bigger, you are smaller – you have to drive back". That worked for us 😉
Most of the bridges only have single lanes, which are quite tight. Luckily we haven't seen any weight restrictions so far. And all of the bridges we used are still there!
But the one and only reason we've chosen Iceland as a test drive country are the many rivers you have to cross. The F249 offer many fords, great fun, though for us they could be a bit deeper.