18.1.19. – 1.3.19
Modern technology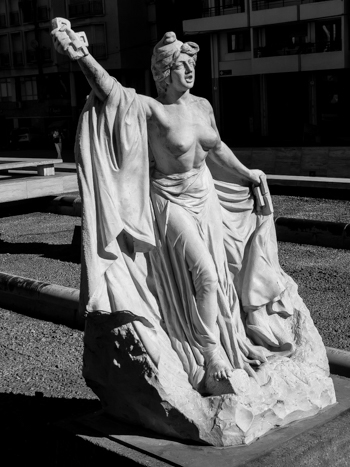 Flopii, a friend from Uruguay, gave us the tip to choose as a provider for our SIM card "Personal", because they offer the best coverage on the country side. We followed her advice. The first office we visited sent us with our request to the main agency office in the city. But that was not open until three hours later. It took the nice lady, who finally sold us the SIM card, more than two hours to enter our data in the computer with the help of her colleague. After that we had to wait until the next day for the SIM card to become activated. Only then we could charge some money on the SIM card at a Kiosco – not at the provider's office – to be able to activate afterwards one of the many internet offers. We spent two half days and one night just to activate a prepaid SIM card! But then the worst happened, we could not activate the SIM card in our router as it did not accept the provider!
A big city later, in Rosario, we tried "Movistar". Again, we were referred to the main office in town. The waiting area was much bigger and with our number we waited in the cooled-down hall until we were called by name. I could not hear it in the noise. After two hours we just asked a lady at one of the over 50 counters if we were called already, we were not yet. After ten minutes, however, she intervened for once and the entire procedure lasted comparatively similar in length and complexity as with "Personal". But, at least our outer accepted "Movistar". We were overjoyed.
Unfortunately, with "Movistar" we had almost never reception, so that we were dependent on the WIFIs of the YPFs (gas station network). Hence, I did my work for our website and all internet related work in the air-conditioned cafes of this chain. Gabi meanwhile sat in Globi at up to 40°C. But now, for the first time since we took over the vehicle, our air condition got a chance. Thanks to Hans it worked without generator, only with solar energy excellently over several hours. A pleasure, Gabi though was a bit undercooled after my return.
At night in northern Argentina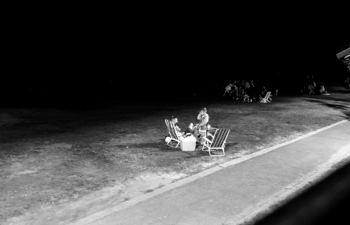 According to i-Overlander and colleagues, we found a beautiful place to stay overnight in the middle of the city in Rosario, in front of us about three meters of lawn, then a slope with an excellent view. When we came back from dinner around 2200, the three meters were completely covered with people and camping gear. We found a way to our Globi and thought that they would probably go home soon. When we went to bed, we felt like we were setting up our bed in the middle of the audience of an OpenAir concert. At 3am, I still watched families arriving with their small children with camping chairs and making themselves comfortable. When do people go to work in the morning? When do their children sleep? When at 6am the meadow was finally emptied, the garbage collection and then the city gardener came with the big lawnmower. We decided to postpone sleeping to another place next night.
In another place where we enjoyed our beautiful wild camp for free, the manager of a nearby campsite expelled us with the help of the police while cooking our dinner. The very nice police guided us to a gas station, behind which we could stand overnight. At 1 o'clock in the morning another truck came with three crew members. Unfortunately, right in front of our door was a barbecue stand. So the three men made fire and roasted their meat. They were really extremely quiet, but …
Afterwards they slept on the bare concrete slab of the barbecue area. At 6.30 am they left again. The romantic view of the life of a truck driver suffered somewhat.
Wine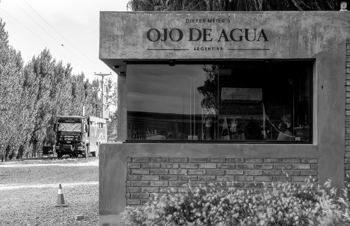 There are countless bodegas in Argentina, and many very good ones. We really wanted to visit some of them. Our first attempt was in the area of ​​Medoza. After the degustation we wanted to be able to stay overnight at the bodega, because we did not want to drive with alcohol. That was not possible except in one place and there the driveway was so narrow that I had to fold in the rearview mirror to maneuver between the wall and the house. When we finally managed to park inside the courtyard, the owner informed us that it had been a misunderstanding, he needed the place himself overnight. We left slightly frustrated. Mendoza without wine degustation, not possible! In short, we simply decided to drive to Dieter Meier's bodega without any notification. We arrived in the evening and, of course, were allowed to park and camp inside. And the other day we got a guided tour and enjoyed a grandious degustation, all for just the two of us. We were thrilled, even from the wine!
The second wine-growing area that we passed is Cafayate, where we visited the Donald Hess bodega in Colomé high up in the mountains. We arrived in the evening and could book a guided tour with lunch for the other day. The wine, the food and especially the museum dedicated to James Turrell were definitely thrilling. The only other museum of this light artist is located in London.
Routes that have challenged us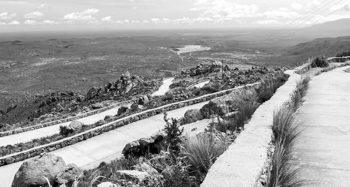 The Sierra San Luis was a highlight after the endless flat pampas. We reveled the pass and enjoyed the view. The serpentines going down the pass were so narrow that Gabi preferred to walk down. There were between 50 and 100 serpentines and I think I could pass just two in one go, for all the others Globi was too long. I did not know that steering with power assistance can be so exhausting.
We were told that Piedra Pomez is a must to see place in the Argentine Andes. We turned off to this side step and took the approximately 25km long drive. The corrugated road is so bad that every few kilometers we asked ourselves if we really need this, if we really wanted to do it, we did it. Except corrugated road fans, we would never ever recommend this effort to anybody.
Situations we did not look for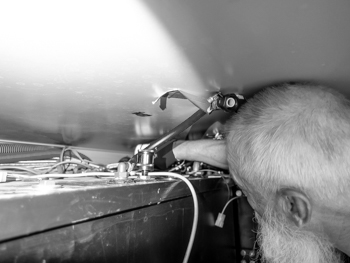 Globi has two water tanks and two water pumps as well. We always empty one tank completely before we refill the second one so that we do not have to mix old with fresh water. After such a refill, the second pump refused to commence operation. So, we stood in nature with a full tank, but with no possibility to pump water. Unpleasant! Fortunately, in Africa we once had the feeling that our water pump was broken, although in fact only the filter was blocked. That's why we had a spare pump with us! We were able to exchange the pumpes, though that's not one of our favorite way to spend our time. Anyhow, we had running water a few hours later.In the Los Cardones National Park, the cactuses are so tall and so dense that we really wanted to take a picture with them and Globi. Unfortunately, the cactuses were not growing right next to the slopes. So, we went up a deep sandy riverbed to find a good place for Globi. But we had to drive back after the picture session as well … We did it, but can you imagine if not? It would have been super embarrassing, and just for a picture…
The Argentines have an annoying habit. In every situation they place traffic cones in the middle of the street. If the road is already quite narrow anyway, it is quite annoying with the truck. Eventually it came over me and I decided to knock over one of those annoying pylons. Thought and done. What I did not calculate was the fact that the outermost part of Globi is the valve at that hight. The pylon has fallen down as desired, less desirable though was the subsequent pressure drop on my front tire. No problem, we stopped at the roadside, jacked Globi up and changed the valve, of which we had a spare one with us of course. Unfortunately, the valve has an inch (9/16) not metric dimension and we have no corresponding wrench! Finally, we even had to change the entire wheel. A long effort for a short fun!