8.12.2019 – 10.1.2020
An expedition to Antarctica is in itself already something worth telling, but what travellers do on such a boat trip is astonishing. As a photographer and filmmaker, you have to master more and more technology, unfortunately that sometimes goes wrong.
We were lucky enough to be able to travel to Antarctica with one of the most modern polar expedition ships (in operation for six months), the World Explorer. The ship offers a lot of luxury and amenities; hence the audience is mostly Americans, Canadians, Australians and New Zealanders. With the price, of course, a lot must be offered. In addition to the ship's crew, the ship also has its own hotel staff and a team of entertainers, consisting of an expedition leader, an expedition coordinator and guides, some of whom specialize in marine biology, ornithology, glaciology, photography, sea kayaking, and stand-up paddling. In order to enjoy and experience the tranquillity of this unique, almost untouched nature, the team therefore offered kayaking, stand-up paddling and camping in addition to the daily shore excursions and zodiac trips! The fact that you also want to drive through the Antarctic in a sporty way may be somewhat understandable, although … We did not understand, however, those who booked camping on an ice floe. They left their pleasant hotel room for one night and moved to an ice floe in a bivouac bag. They weren't allowed to leave anything there, not even any physical remains! And it was cold. Unbelievable what they do to just show selfies that are as great as possible and tell outstanding stories to those who stayed at home? The "most adventurous" experience though was the Antarctic Polar Plunge. Volunteers, just for a good photo, jumped in rows into the ice water. It was brave of the participants and fun for us spectators. We observed how nimble otherwise rather phlegmatic people became when the water of around 37 ° C below their body temperature enclosed them. The according facial expressions also cheered us up.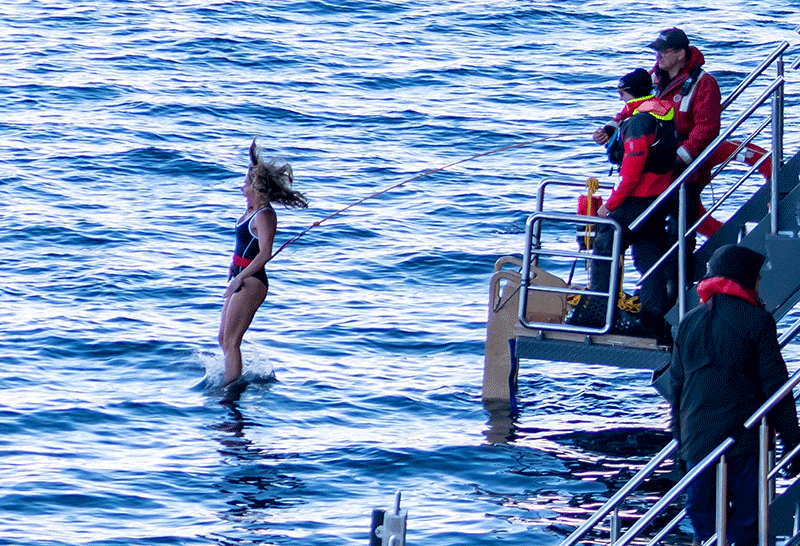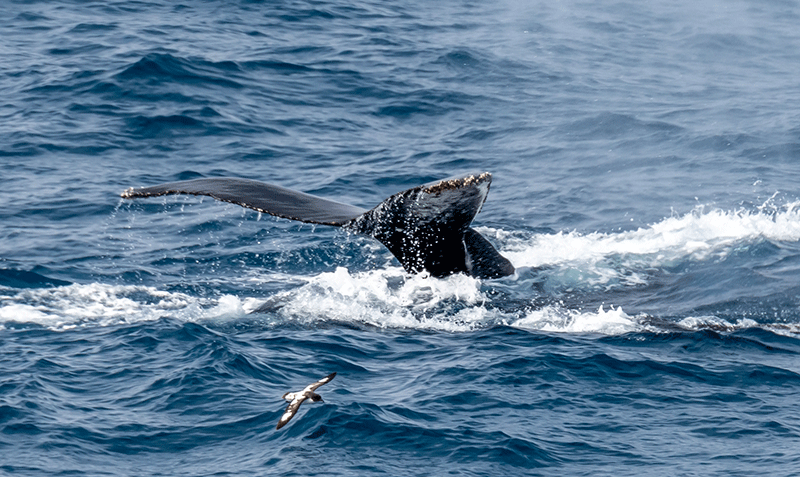 On our way down to Tierra del Fuego we could see some whales, especially on the Valdés peninsula, but our great moment of happiness we had on the way back from Antarctica in the middle of the Drake Passage when suddenly it was announced, late in the evening «whales at 1100». A large school of humpback whales, certainly over thirty animals, swam about 500 meters from the ship. The captain stopped the ship and made a 360 ° turn to slow down. When the ship stopped, he turned off the sonar to not irritate the whales and waited. The idea of the marine biologist and the captain worked. The whales are curious animals and they immediately came swimming towards us to explore what was so big and sluggish in the water. As a result, the animals romped around and under the ship for a good hour. They showed themselves to us from all sides and also played with the ship, in which they tried to push and push against it. It was a unique experience to be able to observe these peaceful, large animals in their element so close and for so long. We were very lucky that the whales spread around the ship and not just on one side. It would be inconceivable what would have happened if they had only stayed on one side and all passengers and employees leaned overboard on this side to see them.
We have had a drone on board since last year, as we have to keep up with the times! On our trip in the north of Argentina, we used the drone little because it mostly had too strong winds on the one hand, and on the other hand because we were unable to control the drone properly. We immediately optimized the latter by being specially trained in the specific flight modes we wanted to use. After that, air traffic control at Zurich Airport took away our drone batteries. When we had organized new ones, there was this stormy Patagonian wind again and the tablet. The tablet is the control module for our drone. Our Samsung tablet just gave up without warning, just black. This has already happened once back home, only a few months after the purchase, but we were able to have it repaired within a few days under warranty. Certainly, this was not so easy in Patagonia. So, we had to buy a new device, which we actually did eight minutes before the shop closed in El Calafate. The installation was complicated because we were of course once again without internet. We were offered free internet access in a café and everything was perfect. Later we wanted to connect the drone to the new tablet, but of course that also requires internet when you do that for the first time. And guess what, of course we didn't have internet then. Well, everything should be fine now, but we've been suffering from the Patagonian windstorms ever since. We will have to wait a little bit longer for any drone videos.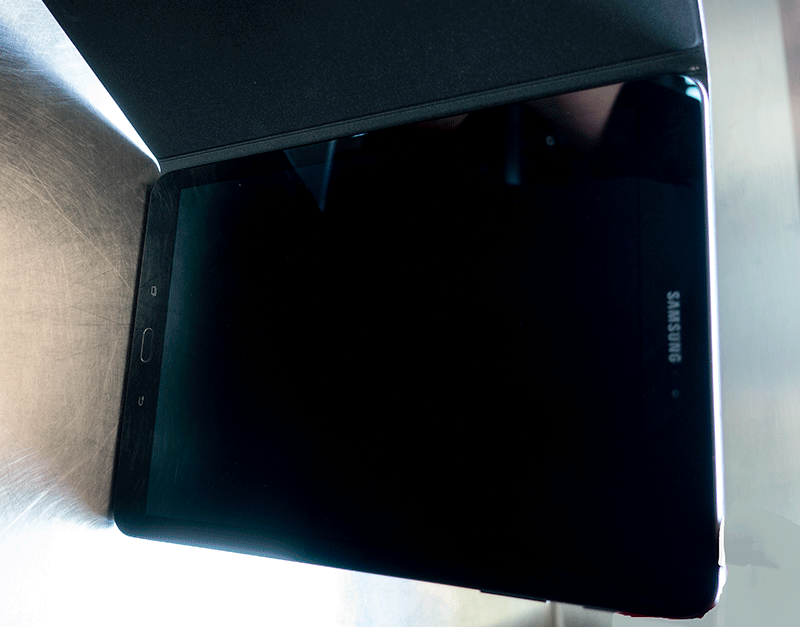 Anyone who travels through the Andes must see condors. We have been traveling through the Andes for several months now and still have not seen any. One day when we came around a bend, there were suddenly many! A dead guanaco attracted them. The birds are really impressive, the size of an eagle with a head like a vulture and with a white collar. They let Globi get close to them, up to fifty meters. Enormous. I immediately pulled out my new camera with the large telephoto lens and took fifty-five pictures. I was happy to have the event saved on the flash card for memory. A few days ago, I practiced filming with the camera, a new venture for me. To do that I have to change various settings on the camera and lens, including switching off the image stabilizer, since I have to film on a tripod. And it was as it shouldn't be, the image stabilizer was still off and of course I cannot hold 400mm hands-free! All of the unique, probably partially photo-competition-worthy pictures were blurred, all of them! For the time being, I am no longer filming with my photo camera.