2/21/23 to 2/10/23
It's the same all over the world, the politicians make life difficult for the voters. Now it hit us! Peruvian politics is waging a power struggle against its citizens, which means that we could not visit Peru and thus cannot travel any further in South America.
Peru is no longer a travel destination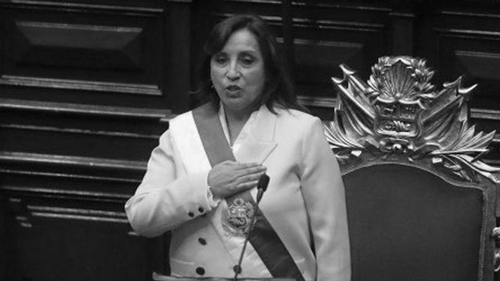 After the Peruvian Parliament impeached and imprisoned its own President, Pedro Castillo, on December 7, 22, Vice-President Dina Boluarte took over as interim President. The Peruvians obviously didn't appreciate that and basically paralyzed the state. The government is reacting confrontationally, which has the effect for us travelers that many everyday goods are no longer available for purchase, currency exchange is almost impossible and there are always and everywhere roadblocks. We were really looking forward to Peru after Bolivia, but for Overlander we think the country is burned, at least until regular new elections are held and maybe even longer. However, if we cannot travel to Peru, the way to the north of South America is also blocked. At least the states of Ecuador and Colombia would have been on our wish list. Since we love to discover new things on our travels and don't want to revisit again and again the beautiful places we know already, we have decided with a very heavy heart to leave our favorite semi-continent, South America. We take Globi back to Europe and think about our next travel destinations.
Happy moment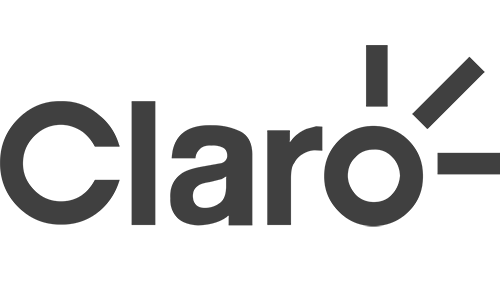 In South America, too, it is becoming increasingly difficult for travelers to purchase a local SIM card. SIM cards are only given to locals with a local social security number. Sometimes a nice clerk lends us her number so we can purchase a card, but clerks don't always succumb to our charm. Personal and Movistar were very strict this time and, even after repeated attempts at different agencies, would not give in to our requests. In Salta we were able to buy a SIM card and a very advantageous data package from Claro within a very short time without any problems, all within just under ten minutes. We were online again!
Encounters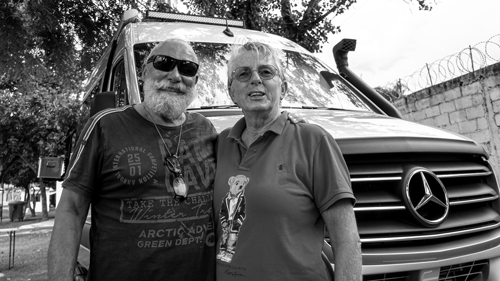 After we last met Brigitte and Edy in South Africa in 2016, we now arranged to meet in Salta. We spent a wonderful few days together, chatting about our travel experiences and marveling at their new vehicle. The sensational dinner on the San Bernardo will also remain in our palates for a long time. They have now returned to South America from North America, though we are leaving the beautiful continent.
Technology pitfalls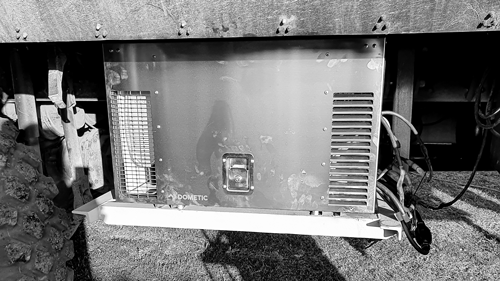 The generator is our favorite child. We've had a lot of hassle with it since the beginning, but we never really need it, it's just a backup. When we started our journey in autumn 22, we exchanged the large generator for a smaller and simpler one. We also bought a new starter battery for the generator. Salta was one of those rare cases where the generator was used. There was very little sun, frequent rain, and we stood under trees, didn't drive, and so didn't produce any charge via the second alternator on the engine. So, time to fire up generator. The generator reports back that its new starter battery has no power! This was quite annoying and not a good sign for the new battery. However, since I had an outside starting option laid for such purposes during construction, we were able to attach the battery with Edy's starter battery from the Mercedes and start the generator.
For a smile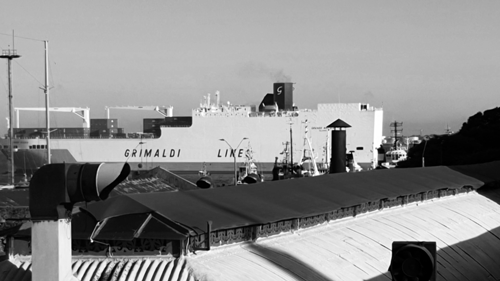 In addition to the fact that Grimaldi has almost all of the touring vehicles that are loaded RoRo robbed, they are creating increasingly difficult conditions for us travelers. Luckily, they gave up the requirement for the vehicle to be completely emptied. Imagine the effort involved in an effective implementation! Now, practically speaking, they only require that the vehicle has to be cleared so that you don't see anything. Nowadays they require all keys for all doors and closets, in case that customs would like to take a look. This would at least save damage to the doors during burglaries. In other places, customs are always done in the presence of the owner, which makes a lot more sense. After that, all doors and boxes are closed and sealed. This time, Grimaldi required the quad's diesel tank to be completely drained and a corresponding independent audit report. We tried to explain that we have diesel in the tank and not petrol, but the rules are the rules, even if they don't make sense for a diesel car. So, we pumped the tank empty, and had it sealed and we anyway disconnected the battery when we are not driving. When we had done that as requested, a new message suddenly came up saying that we were not allowed to load the quad in the large truck but had to load it separately. That was pretty much impossible without diesel and battery. There was then the threat that in an emergency they would simply leave the vehicle in the port. We couldn't help but simply ignore this last insane instruction. Globi was loaded with Ernstli without any problems and arrived back in Antwerp undamaged. So we can now confidently target new travel destinations.